The hate that dare not speak its name
The Ukrainian legislation lacks the very concept of so-called hate crimes – crimes motivated by prejudice, as when a perpetrator chooses his or her victim because the latter shares some characteristics that the former considers as negative. Ukrainian society remains predominantly homophobic – for instance, the survey of 2016 by the Kyiv International Institute of Sociology found that 60% of the respondents regard LGBTI people rather negatively or strictly so. Thus it's no wonder that the level of crimes and incidents motivated by homo- or transphobia in Ukraine remains somewhat high. In fact, monitoring by LGBTI Human Rights Nash Mir Center and other human rights organizations indicates that this level has even been increasing in recent years, even in this Eurovision year.
The fastest-rising types of crimes against LGBTI people in Ukraine are "hunting" for gay men via internet social networks and assaulting LGBTI events by ultra-right radicals. The first we tend to associate with the general growth of criminality in the country under present circumstances of a war fomented by Russia and economic crisis. The second is evidently connected with the ever increasing visibility of the Ukrainian LGBTI community after Euromaidan. Gay men seeking dates through the internet appear convenient targets for robbing and humiliating by perpetrators, who usually are savvy that the victims would fear disclosing their homosexual orientation and so not appeal to the police for an incident's investigation. In 2016 Nash Mir Center documented 125 cases of physical abuse, 24 cases of robbery, and 15 cases of extortion and blackmail regarding LGBTI people, mostly gay men. Typically, characteristics of such a crime were perpetrators fishing for potential victims on websites under the disguise of a guy wishing to meet other gays. Then a date was arranged with the victim in a secluded nook where he unexpectedly faced several robust guys who beat, robbed and/or blackmailed him for extortion money. Note that the cases reported are necessarily just the tip of an iceberg. In fact, only a few LGBTI and human rights organizations monitor and collect such information, and their coverage is quite limited by financial and technical problems. While attacks on LGBTI events are less numerous they usually are much more visible to the public and well covered by mass media. Happening in 2016 were such aggressive incidents as an assault of neo-Nazi youth at Lviv's Equality Festival, attempts by young radicals to disrupt the Equality Marches in Kyiv and Odesa, and halting projection of the film "It's a gay propaganda" in Chernivtsi, etc. Nash Mir Center documented a total of 7 cases of attacks on LGBTI organizations or events during 2016.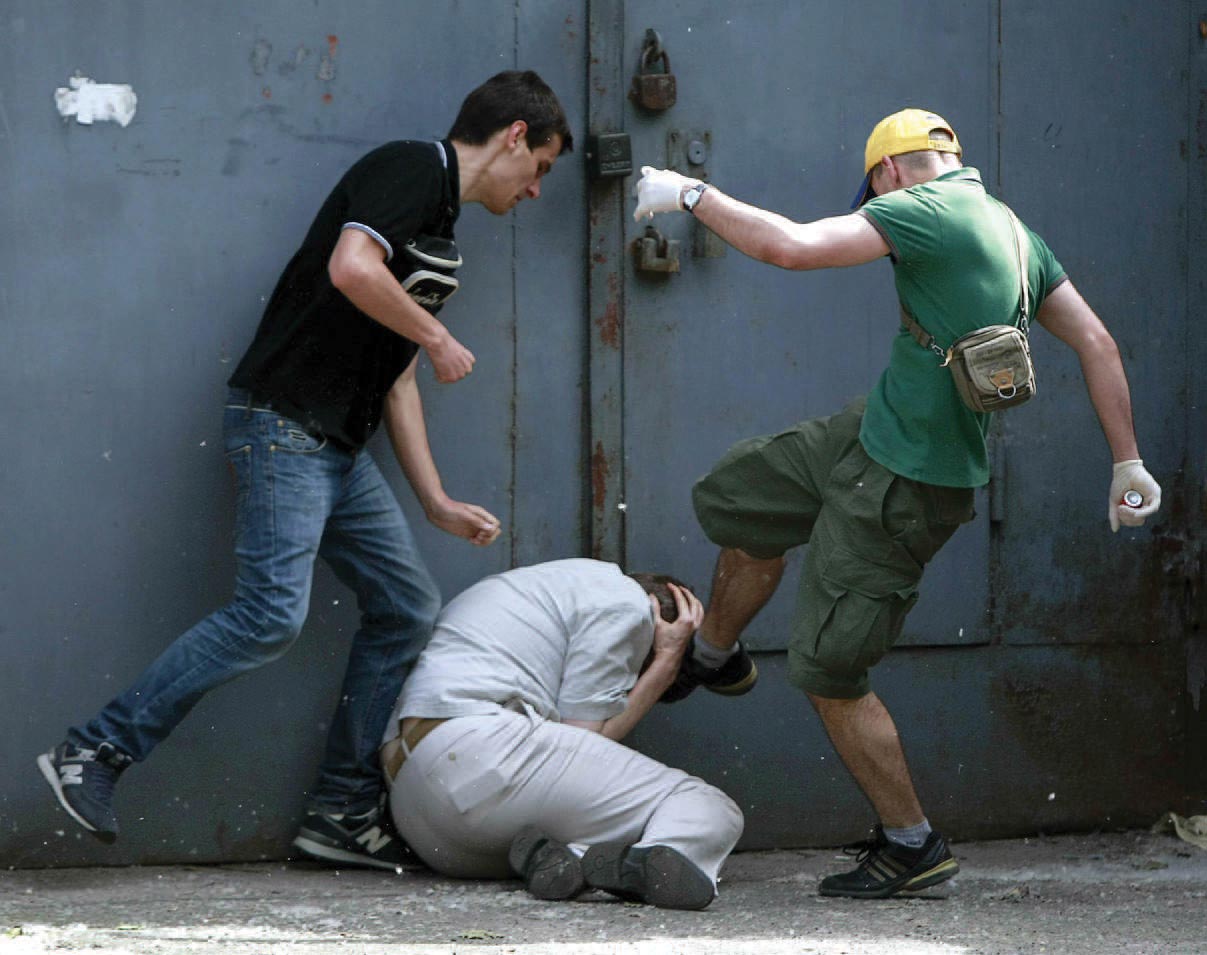 Homophobic attack on gay activist Maxim Kasyanchuk, 2012
(Photo: Volodymyr Hon tar / UNIAN)
Until recently Ukrainian law enforcement agencies weren't interested in such information but the situation began changing: since 2016 the Chief Investigation Department of the Interior Ministry started requesting data on hate crimes from non-governmental organizations and the Ombudsman — including them in its own reports. This governmental department also began developing a draft law on amendments to relevant articles of the Criminal Code which would criminalize hate crimes on several grounds (including sexual orientation and transsexuality). While we welcome these steps it should noted that according to the Action Plan on Human Rights, the respective draft law had to be already worked out in the 2nd quarter of 2016, and that the scope and wording of amendments proposed by the Interior Ministry do not correspond to those provided in the Action Plan. The current legislation simply lacks the possibility for police and public prosecution to charge perpetrators with hate crimes instead of ordinary offences, and the observed practice also demonstrates the unwillingness of investigators to take up felonies motivated by homophobia as actual hate crimes rather than ordinary ones. To change this situation obviously the Ukrainian government needs to reform both the national legislation and the current policy of law enforcement.
Long-expected reform, though, has already started alongside creation of the patrol police – a brand new structure within the National Police of Ukraine. Unlike the other law enforcement bodies, the patrol police staff does not consist of former militiamen (since Soviet times and until 2015 the Ukrainian police was called "the militia") but was formed from newly recruited enthusiastic educated youth who were trained in human rights and anti-discrimination by trainers from Ukrainian civil society organizations. Besides, for the first time the National Police established the Department on Human Rights. These new police structures established cooperation with civil society organizations, human rights and LGBTI ones in particular. The Ukrainian LGBTI community finds hope because traditional attitudes of disrespect and disregard from the police should eventually get replaced by tolerant, respectful and professional treatment.
For now unfortunately most problems that LGBTI people face when interacting with police remain. Nash Mir Center in 2016 documented 31 cases of abuses by law enforcement agencies towards LGBTI victims, such as illegal detention, physical violence, bribe extortion, insults, humiliation of human dignity, complicity with offenders, failure to protect rights, disclosure of confidential information etc. Even the new patrol police is not free of abuses, let alone the other police structures. Sometimes police officers even act as agents provocateurs using criminal tactics and "hunting" for gay men via the internet. In February 2016 Oleksandr, an LGBTI activist from Mariupol, reported "Police officers, under the guise of various persons, communicate within the VKontakte groups on sex dating, proposing to exchange intimate photographs. Then they invite you to a meeting, where they catch you and bring you to the office, and begin to "press down" [exert pressure] stating that you can be convicted for the distribution of pornography or you may pay off with 10 thousand hryvnias. This has already happened to about 20 gays over the past three years. When communicating and using psychological pressure, the police have repeatedly mentioned the abnormality of the victims. The victims do not want to take any action to defend themselves – everyone is afraid of punishment for distributing porn and especially of uncovering information about their sexual orientation." This and many other cases were found and documented by Nash Mir Center through its permanent monitoring of LGBTI people's rights violation in Ukraine. We strongly aim to radically change the situation of abuses. We understand the huge volume of work ahead but we also see how it can be done! More information to support our efforts against abuses is at the organizational website gay.org.ua – donations welcome.
Andrii Kravchuk, Expert of LGBT Human Rights Nash Mir Center